Why are there two different compassion programmes?

In many countries, two types of compassion training are being offered: Mindfulness-based Compassionate Living (MBCL) and Mindful Self Compassion (MSC). Both programmes consist of eight sessions and an extra session in silence and intend to cultivate compassion. 

MSC has been developed by Kristin Neff, who is a pioneering researcher of self-compassion, and clinical psychologist Christopher Germer, who is an expert in the field of meditation and psychotherapy.  

One of our compassion trainers, Ali Lambie, has created a very useful YouTube video that explains in detail the principles behind MSC and how it works. We highly recommend that you watch the video, since will answer many questions that you might have. 

MBCL has been developed from the close cooperation of two pioneering mindfulness teachers in the Netherlands (psychiatrist and psychotherapist Erik van den Brink and meditation teacher Frits Koster) based on their extensive experience in working with MBSR and MBCT in mental health care. In their programme, they have integrated elements derived from the developers of MSC as well as Gilbert's Compassion Focused Therapy (CFT), building on an evolutionary model of the human mind. MBCL is recognised as a follow-on course following foundational mindfulness-based programmes (MBSR, MBCT or equivalent) by BAMBA and VMBN (the Netherlands based mindfulness teaching network).

You can listen to Frits Koster talking about MBCL in this podcast from Present Moment: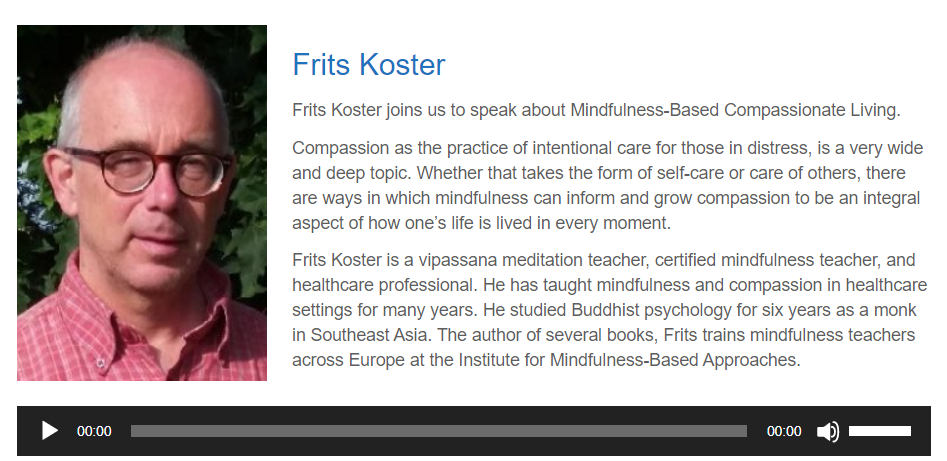 What are the similarities and differences between Mindfulness-based Compassionate Living (MBCL) and Mindful Self Compassion (MSC)?

What they have in common: 
MBCL and MSC draw from many similar sources and present compassion training in a secular, non-religious way. Based on transdiagnostic views on human suffering and universal models of the human mind, they can both be applied in various settings (preventive, primary and secondary healthcare; coaching; counselling; education; human resource; management). 
Both MBCL and MSC present exercises that have an evidence-base and incorporate new neuroscientific and clinical findings. 
Both programmes offer exercises that are helpful in dealing with stress and (emotional) pain in healthier ways. Both programmes seek to cultivate wholesome mental states, integrating insights from modern psychology and ancient contemplative practice in kindness and compassion (such as metta and tonglen). 
Both programmes give ample space to help participants: deal with adverse reactions to self-compassion; cope with painful emotions and self-criticism; accept their imperfections; and develop a kind, caring and forgiving attitude toward ourselves. 
They both seek to develop the four boundless qualities of heart (kindness, compassion, appreciative joy and equanimity). 
How they differ: 
MBCL is designed as a follow-up programme and participants are required to have followed a basic mindfulness course, preferably MBSR or MBCT on which it specifically builds, or Breathworks, MBRP or equivalent programme. It deepens already established mindfulness skills and expands the practice with compassion-focused exercises. Hence, it is required that teachers of the MBCL curriculum are already experienced and certified in teaching MBSR or MBCT and follow a similar style in teaching and guiding and in exploring the experiences of participants. In MBCL, teachers expand their teaching from the basis of MBSR/MBCT. MSC, on the other hand, is intended as a stand-alone programme and has integrated basic mindfulness exercises in its curriculum. It does not require participants to have followed a mindfulness-based programme first. MSC teachers have followed a stand-alone teacher training programme and being a MBSR/MBCT teacher is not a prerequisite. However, they are required to have an established and ongoing personal meditation practice. 
In MBCL, developing self-compassion and compassion to others are viewed as inseparable and ample space is given to both. In MSC the focus is more explicitly on developing self-compassion. Practices in kindness/compassion towards others are also offered in MSC, however, as a vehicle to self-compassion. 
There are also some smaller differences regarding specific exercises and themes that are explored. 
Which compassion programme should I choose?

Both trainings highlight the value of mindfulness practice. MSC states that familiarity with the practice of mindfulness is recommended, whereas MBCL considers it as a requirement. Developers of both programmes emphasise that personality, style and embodiment of the teacher are often more important than the curriculum offered. 

Both training programmes are, like other compassion training programmes, valuable in their own right and it is most important that people explore for themselves what suits their needs best. 
Is there any evidence-based research on the benefits of compassion?

Although there is still much to learn, there has been an explosion of research into self-compassion and compassion over the past decade. Promising results have indicated: a link to well-being, with reductions in negative mind-states and increases in positive mind-states; easier management of difficulties including chronic health conditions; and increases in coping, resilience and motivation (for more information see Kristin Neff's website http://self-compassion.org).  

Increasingly, understandings from neuroscience about the way the brain works are supporting the best methods for and the benefits of compassion training. 
What can I expect when attending a compassion event?

Full details of each event can be found in the event description when booking via our CALENDAR and, unless otherwise stated, the event will be delivered in English.

Due to Covid-19 the Mindfulness Network now offers compassion events online. Our experience is that our events and trainings are effective online – and although there is some loss in not being together in person, it is wonderful that we can continue in this new context. We host events online via our e-learning platform called the Mindfulness Network Community – a safe space for participants to access resources and connect with the compassion leaders. We will enrol you onto the event and we strongly encourage you to log into your account and familiarise yourself with the environment well in advance of the starting date so that you can begin the compassion event feeling prepared. Sessions will be hosted via Zoom and participants must commit to the entire event. If this is not possible, please contact us to discuss before submitting an application. You can read more about the experience of taking part in an online compassion course in this blog post written by a recent participant.

We always recommend that you to read the event description thoroughly before submitting an application and familiarise yourself with our Payment Terms and Conditions. We also invite you to take a look at our policies which include Safeguarding, Complaints and Data Protection procedures.
How do I train to teach MSC?

There are 3 designations of MSC teachers:  
Teacher in Training 
Trained MSC Teacher 
Certified MSC Teacher 
Teacher in Training 

The first step toward becoming a Mindful Self-Compassion (MSC) Teacher is to take a six-day MSC Teacher Training program (TT). The next MSC teacher training in the UK will be hosted by the Sussex Mindfulness Centre and you can find more information at http://sussexmindfulnesscentre.nhs.uk/events/masterclasses/. 

Prerequisites for attending a MSC Teacher Training are: 
Previous participation in a five-day or eight-week Mindful Self-Compassion course (Please note: You must allow at least six months to elapse between completing your MSC course and beginning Teacher Training.) 
Established daily mindfulness practice of at least two years 
Ongoing, daily, sitting meditation practice 
Ongoing practice of loving-kindness and self-compassion in daily life 
Attendance in at least one five-day silent, teacher-led meditation retreat 
Experience teaching meditation in groups, such as Mindfulness-based Stress Reduction, or in clinical settings 
You do not have to be a clinician to take the MSC Teacher Training. 

Upon completion of the MSC Teacher Training, participants receive a Certificate of Attendance from the Center for Mindful Self Compassion stating that he or she has attended the TT in its entirety and can start teaching MSC as a Teacher in Training. 

Trained MSC Teacher 

The process of becoming a fully trained MSC teacher in conjunction with the Center for Mindful Self-Compassion encompasses all of the pre-requisites for attending the MSC Teacher Training (TT), as well as the following additional requirements: 
Completion of the MSC Teacher Training (TT) 
Teaching or co-teaching a full eight-week MSC group course (after Teacher Training) with at least eight participants 
Active participation in 10 online consultation sessions while teaching or co-teaching one's first MSC group course 
Ongoing personal practice of mindfulness and self-compassion, including sitting meditation and practice in daily life 
Upon completion of these requirements, the teacher trainee can apply for a Certificate of Training from the Center for Mindful Self-Compassion. This certificate indicates that he or she has fulfilled the necessary requirements and is now trained to teach or co-teach MSC. The bearer can now advertise him or herself as a Trained Teacher of Mindful Self-Compassion. 

Trained teachers can be listed on the Center for Mindful Self-Compassion website along with their MSC programs. 

Certified MSC Teacher 

In order to apply for Certification, the teacher must have taught at least five eight-week MSC courses. 

Certification is verification of a teacher's competence, whereas the designation of Trained MSC teacher simply recognises that a person has completed the requisite training activities. 

The designation of Certification indicates that the individual has been individually mentored by an expert MSC teacher over at least 14 one-hour sessions, has received specialised advanced training in teaching the program, has taught a significant number of MSC courses and had his or her teaching reviewed by an expert MSC teacher for competence. 

For the complete version of this pathway see: https://centerformsc.org/teach-msc-2/. 
How to I train to teach MBCL?

The MBCL programme was initially developed in mental health services and has been well received by clients in this context. It is also a valuable resource for people with less severe challenges for managing the general struggles of life and enhancing enjoyment and flourishing. It follows the form of the MBSR course (eight sessions of 2.5 hours and an extra silent session) and supports the development and training of compassion and mindfulness to enhance mental and physical health. 

A number of MBCL teachers have now been trained in the UK and you can search here for a teacher and eight-week course near you. 

Mindfulness teachers and mental health professionals

Teachers and trainers in Mindfulness-based Approaches (MBAs) and health care professionals have also found MBCL very helpful both for themselves personally and as a support in their work. MBA teachers have described the positive impact of MBCL on their teaching and on managing their personal process in the teaching role. Insights and skills from MBCL can also be integrated into individual therapeutic work and therapists can decide to explicitly train their clients in compassion practice. An introductory workshop (Foundation Course) of three days has specifically been developed for healthcare professionals and mindfulness teachers as an experiential introduction. A MBCL Teacher Training Programme has specifically been developed for mindfulness teachers and health care professionals who wish to teach the eight-week MBCL course or wish to teach elements to clients. The MBCL TT Programme is offered in the UK as a six-day residential training. As with MBSR/MBCT, personal practice is central to teaching MBCL. 

MBCL trainings available through the Mindfulness Network include:

Foundation level: Attendance at an eight-week MBCT/MBSR or equivalent training (eg. Breathworks, MBRP) is a pre-requisite for attendance of foundation level events. 
6-7 day MBCL retreat: for professionals looking to deepen their practice through experiencing the whole MBCL program in condensed form in a retreat setting. Exercises central to MBCL are delivered, alternated with periods of silent practice and interpersonal mindfulness practice, exploring the main themes. 
Foundation Course: this is an introductory and mostly experiential MBCL workshop for healthcare professionals and mindfulness trainers (three days). 
Teacher training: Attendance at an MBCL eight-week course, a MBCL retreat or Foundation weekend is a pre-requisite for teacher training. 
MBCL Teacher Training Programme : This is a 6 day residential training, which consists of 2 modules of 3 days each. Module 1 builds on the foundation training with a further exploration of the curriculum including theoretical underpinnings. In Module 2 participants learn how to deliver the curriculum, guide the practices, facilitate group process, lead inquiry and explore didactic topics. 
In addition to attending a foundation level MBCL training, applicants for the Teacher Training Programme must have…      

EITHER: 
qualified as a mindfulness teacher (MBSR or MBCT, or equivalent, e.g. Breathworks) from a recognized training institute. On successful completion of the MBCL TT Programme, one can obtain A-registrationas an MBCL-teacher and offer the formal MBCL-programme as an advanced course to participants who completed a basic mindfulness course (MBSR/MBCT/Breathworks). Those who have almost completed their mindfulness teacher training can also apply for the MBCL TT programme. However, they only obtain their A-registration following completion of their training enabling them to be eligible to be listed with the British Association of Mindfulness-based Approaches (BAMBA) as a mindfulness teacher. 
OR: 
qualified in a (mental) health or other helping profession without MBSR/MBCT teacher qualification. They should preferably have followed basic training and gained experience in mindfulness-based interventions (e.g. ACT, DBT, MBCT) and/or wish to do the training to deepen their own practice and their therapeutic or counselling skills with mindfulness-based and compassion-focussed interventions. For this group the minimum requirements are that one has followed an eight-week MBSR/MBCT course and has at least one year regular practice in mindfulness meditation. Those belonging to this group can obtain B-registration as a professional being trained in guiding exercises and working with material from the MBCL programme and applying this in their own professional setting, individually or in groups. Please note, one can only register as a formal MBCL-teacher and offer the full MBCL-programme under its name, when one is also a formal MBSR or MBCT teacher.