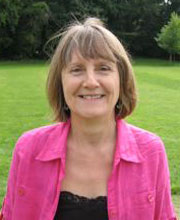 I have been practising yoga and meditation since 1980 and see both of these as integral to my life. My first degree was in English at King's College, London and I worked for some years in the corporate sector. After I had my children, I felt a real need to change careers and re-trained and then practised as a Homeopath for 18 years. I lectured at several Homeopathy colleges, as well as being a supervisor and assessor for both students and practitioners. I now work full-time as a Mindfulness & Mindful Self-compassion teacher and trainer, teaching and deepening into the practices that have sustained me for so many years.
I have taught MBSR (Mindfulness-based Stress Reduction) courses since 2001 both to General Public Groups and other more specialist courses for Carers, Workplace, Mental Health Groups and Clinical Professionals.
I became a member of the Core Teaching Team at the Centre for Mindfulness Research and Practice (CMRP), Bangor University in 2008, teaching on the Distance Learning Programme and supervising mindfulness teachers. I also taught on the MSc in Mindfulness-based Approaches at Bangor University for five years, both on the Foundation Module and the Teaching 1 Module. I currently teach on their Teacher Training Retreats, Levels 1 & 2, assess teachers for certification and facilitate Mindful Movement Workshops.
In 2014, I trained in MSC (Mindful Self-Compassion) and am now a certified teacher and trainer. Kindness has always been one of my core values and I find the MSC work deeply rewarding and a wonderful addition to the MBSR courses that I have taught for so long.
---
Qualifications
Certified Teacher and Trainer in Mindful Self-Compassion UCSD (University of California, San Diego) 2015
Postgraduate Diploma in Mindfulness-based Approaches, Bangor University, 2009
Teacher Training Intensive with Centre for Mindfulness Teachers, Massachusetts, organised by CMRP, 2001
BA Hons, English Language and Literature, Kings College, London University, 1969
---
Teaching Training Specialisms
MBSR and MSC Courses for the general public
Teacher Training Level 1
Teacher Training Level 2
Mindful Movement
MSC eight-week courses and five-Day Intensives
MSC Teacher Training with UCSD
---
Retreat Lead Experience
I have taught seven-Day retreats both as a co-teacher and as lead teacher. I also, together with Judith Soulsby, designed and facilitated the Mindfulness and Self-Compassion Retreat based on the Mindful Self-Compassion programme – a world first.
---
Retreat Specialisms
Retreats for experienced practitioners
Mindfulness and Self-Compassion retreats
---
Personal Practice
I have a daily practice of both meditation and yoga, refreshed by yearly retreats. My practice informs my life and has been a dear companion and teacher for these many years. It has been varied, starting with yoga and then moving into other traditions. I owe much to the teachings of Chogyam Trungpa, Thich Nhat Hanh, Ajahn Sumedho and, most recently, Melissa Blacker with whom I play at exploring koans as well as the delights and challenges of my practice and my life.
---
Publications
The Mindfulness Breakthrough, Sarah Silverton, Watkins, 2012. (now reprinted as The Mindfulness Key and which has been translated into 8 languages).
I wrote two chapters, one of which was 'Mindfulness for Carers.'
---
Further info
Vanessa's website – www.mindfulnessforhealth.co.uk